right, recently i bought a set of Pual G's custom made front discs with a set of mintex 1144 pads.
the discs have been discussed on here at length and there are plenty of pics of them on a thread started by MJ Type R which can be found here
http://www.itr-dc5.com/forum/viewtopic.php?t=8610
heres a quick piccy though to save you looking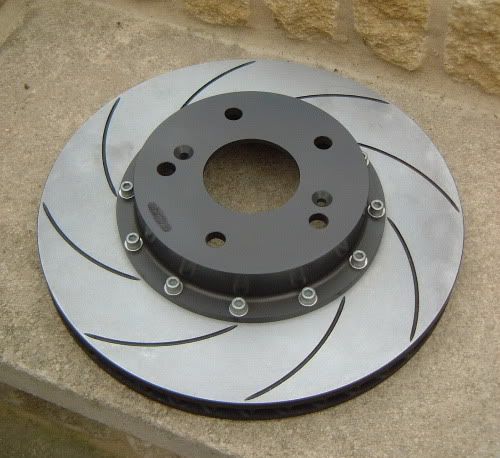 the discs are a lot lighter than the oem brembo ones, and look solid! went on as easy as any new discs would, they look 8) on the car too, proper professional job!
paul supplied me with mintex 1144 pads based on what i use the car for, these are fast road/track pads, due to the bell part of the discs they need the edge grinding off to stop them rubbing, (something which paul does and has promised to do with any future pads i get, whether bought from him or not without charge!)
from the moment they were fitted and bedded in (a VERY simple process involving slowing down from three different speeds! details supplied by paul!) i could IMMEDIATELY feel the difference! on road the bite is SOO much better and solid feeling, a slight press of the pedal is all thats needed to bring you to a stop! my mechanic nearly put himself through the windscreen when he took it for its mot as he wasnt used to them!!
they dont need 'warming up' and work as well from cold as they do when hot, my only 'issue' with them is a slight squel at low speeds when only slightly pressing the pedal (approaching traffic lights for example when youve been staionary in a queue) this is due to the compound of the pads and is far outweighed by the difference in braking at normal/higher speeds!
Saturday gone was the H-O-T day at croft circuit, a time for me to meet Paul (amongst others) and give the disc/pads a good fettling!
once i had gotten used to them on track and built my confidence up with them i was able to brake a LOT later and a lot harder than i had previously done at croft (done this circuit around 4-5 times previously on oem brakes).
the bite was awesome, never once did i encounter any fade (also using brembo race fluid and braided hoses supplied by tom @tgm, thogh these have been on for my last 2 trackdays) the difference really is phenomenal
Paul tempted me prior to my last session with a set of FULL race spec F4 pads (not sure what that means but it sounds good!) using the proper tools we changed the pads over in around 5 minutes (wood nail and back of pliers to get the pins out, then tapped back in with the same method)
tell you what, i thought the 1144's were good! obviously these F4's are only for track use and not raod use as they need warming up before they work properly, the speed i was braking from in the space of time i was doing it was unreal! the discs took both combinations of pads in their stride and still look as good now as before the trackday!
due to the heat generated from braking i have now joined the 'yellow' brembo logo club!! but never once did i experience any problems, ie fade, soft pedal or anything, the pedal felt the same at the end of the 20 minute session as it did at the start!
anyhow, ive had 1144's on the car for around 2k miles of road use and five HEAVY sessions of braking at croft, and the pad has about 2/3rd's of meat left on them, should get another year out of them no bother, (obv less if i do more trackdays with them)
you may think the price of the discs is steep, but for what your getting it isnt, and dont forget that when the discs eventually need replacing you keep the expensive 'bell' bit and just replace the actual disc itself.
think of the fact that paul has managed over 8 trackdays on his before selling them on second hand to a satisfied forum member, you may manage two trackdays out of a set of oem ones before they need replacing.
i would recomend these heartily to anyone needing new brakes or just wanting an upgrade, you will not be dissapointed with them! pual didnt need to ask me what i thought of them as my
gave the game away!
i cannot stress the difference between these and oem, its UNREAL!!!