Im not sure how much use this will be to people, but i couldnt see one on here.
Ill start by saying, this is doable DIY, but you need a vice really. You could try another method of getting the RCA in, but short of hitting it in, i cant think of any, other than vice and press.
Again, im going to assume you know the basics, can get the wheels off etc. And that you have basic tools. Ill list anything important.
36mm Socket for Hub Nut
22mm, 19mm, 17mm, 14mm, 12mm, 10mm sockets
Hammer
Impact Driver, or decent Phillips to remove disc screws.
Pipe Clamp and brake bleeder (these arent needed but save time in my opinion)
Ball joint separator (I dont use these, as they normally damage boots, a short sharp whack normally frees them)
Ok, so jack the car up, on stands, front wheels off.
You have a choice here. Either remove the pads, caliper, and disc, leaving the caliper connected to the pipe.
Or they way i did it, as im sure my pads wont come out easy, pins will be stuck etc. You can clamp and remove the fluid line, and leave the caliper with the pads on the disc. Just remove it as one unit.
Calipers 2 17mm, pipe is 14mm
Disc needs something to free the phillips retaining screw.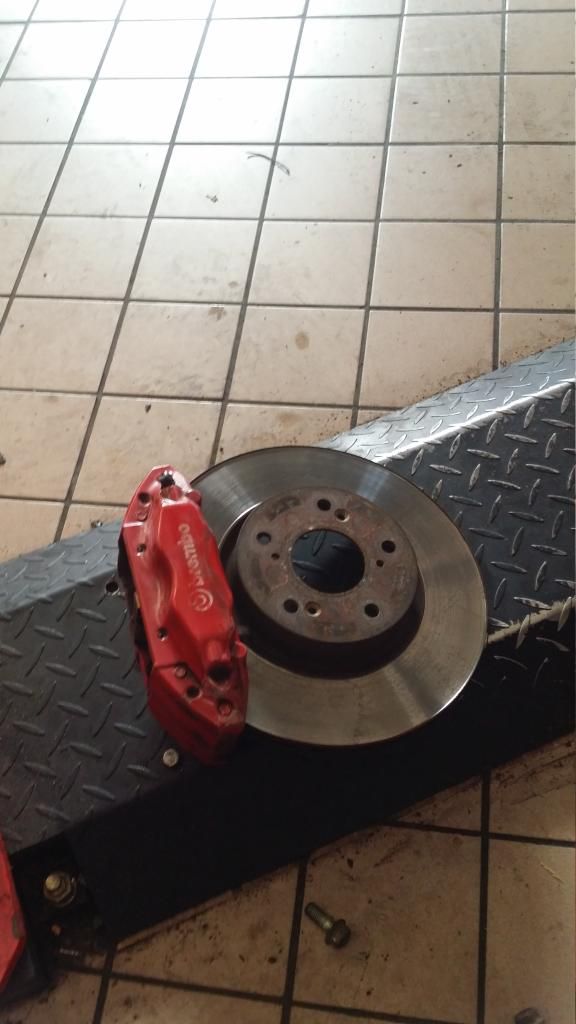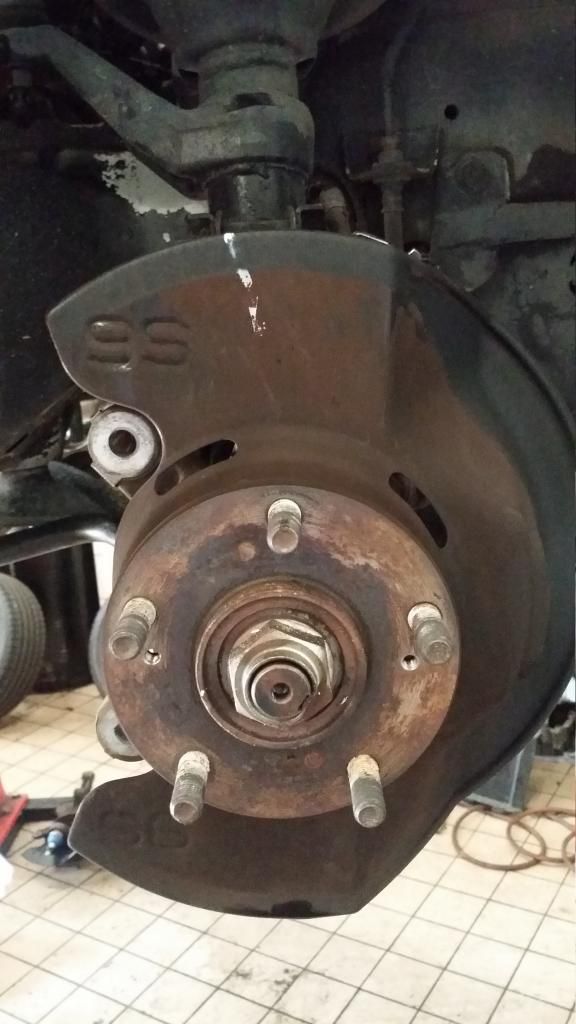 From here we move to the bottom ball joint and drop link.
So remove the split pin, then its a 19mm for the balljoint. A 14mm for drop link.
Here you either need to use a balljoint separator, or give the bottom arm a sharp whack to split the joint.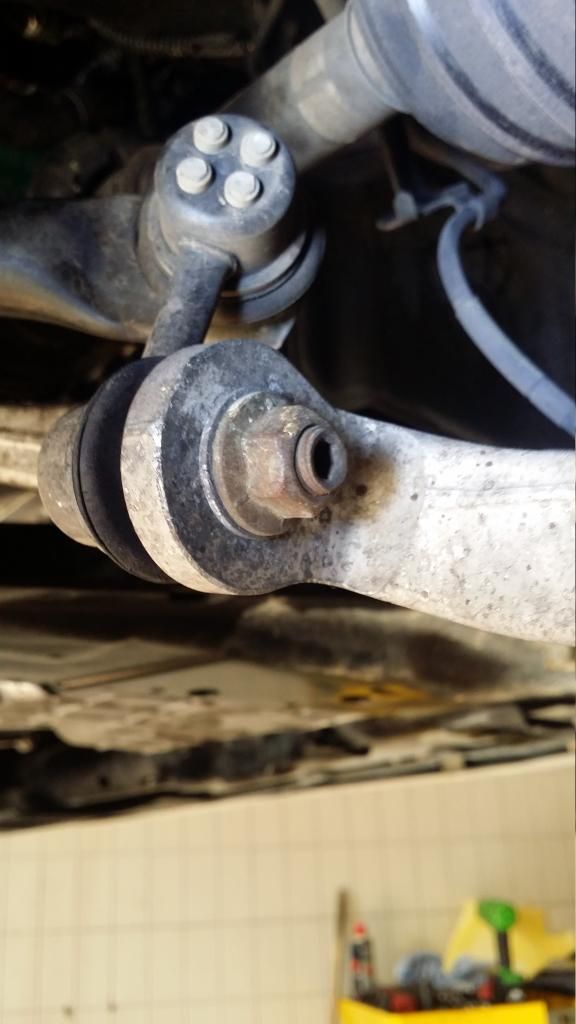 Theres a 10mm holding the ABS sensor in, which i failed to get a picture of. But its on the back of the hub, where the drive shaft goes in.
Undo the 36mm Hub Nut. Now i used an air gun, if you dont have one, your options are as follows.
Wheel cap off, crack it off before you jack the car up.
Wedge brake pedal down, crack off before you remove brakes.
Place a bar between 2 wheel studs against the floor, crack off.
You need to bend the little tab out where its been punched in, before you undo it.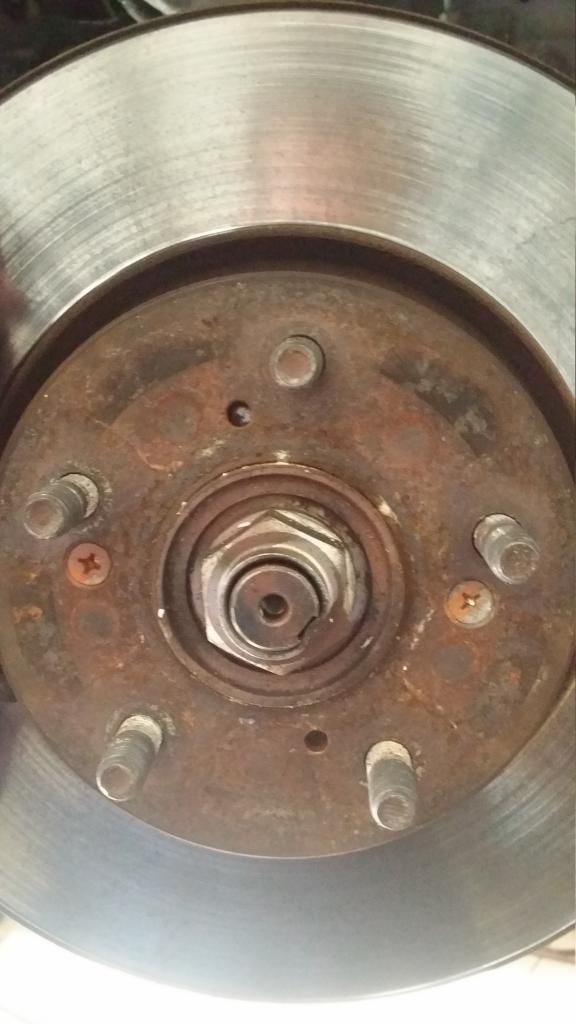 The drive shaft may need a little tap to get it to free off. Just get it so it will slide, you can leave it fitted for now.
Remove the shock bolts, theses are 22mm with 19mm nuts.
Also remove the brake pipe hose, think it was 12mm.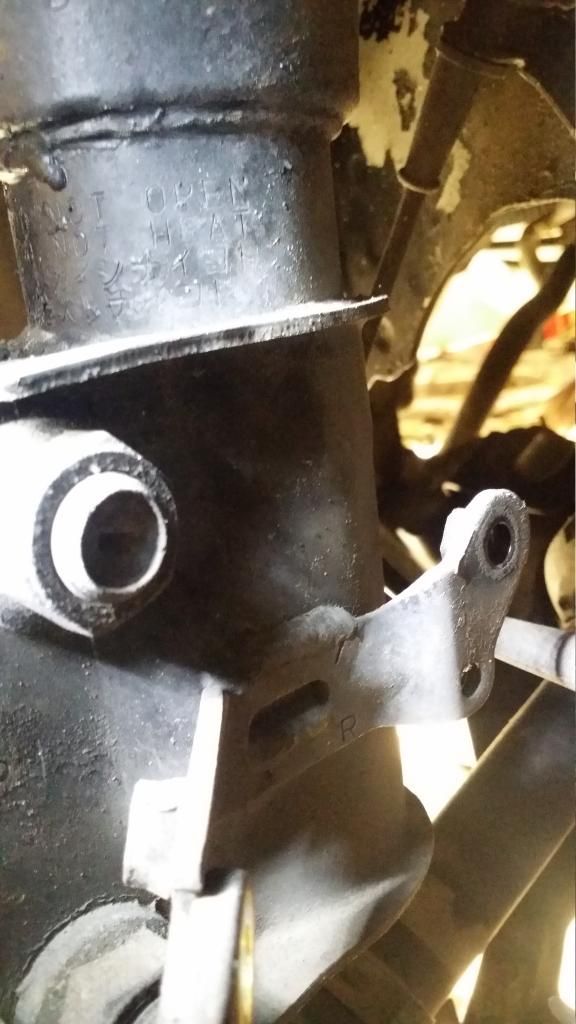 You should now be able to lift the whole hub off the shaft, leaving it looking like this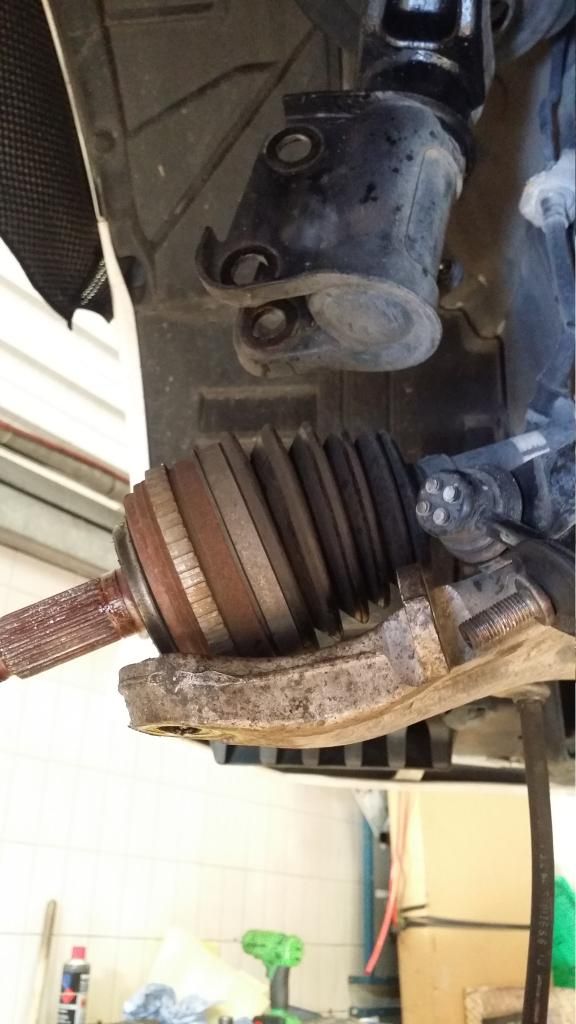 This is where the vice comes in.
Put the hub in the vice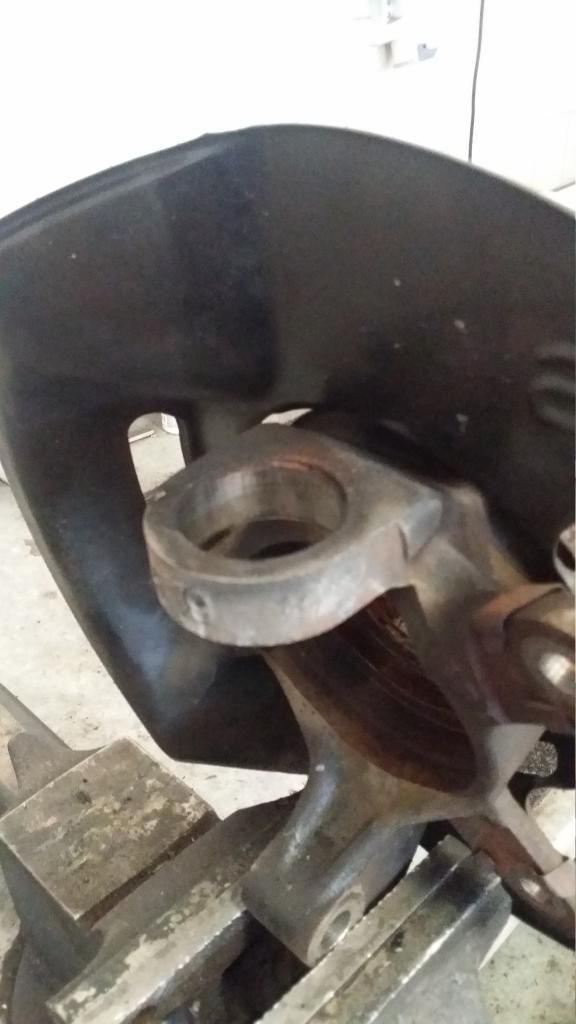 Here ive already removed the ball joint. I hit mine out, as they wont be reused, so no concern of damage. Basically just whack the threaded part (i fitted the nut but wont matter) Mine took 3-4 hits and it popped out.
I cleaned up the edges with some emery cloth, but this is just my nature.
New joints are pretty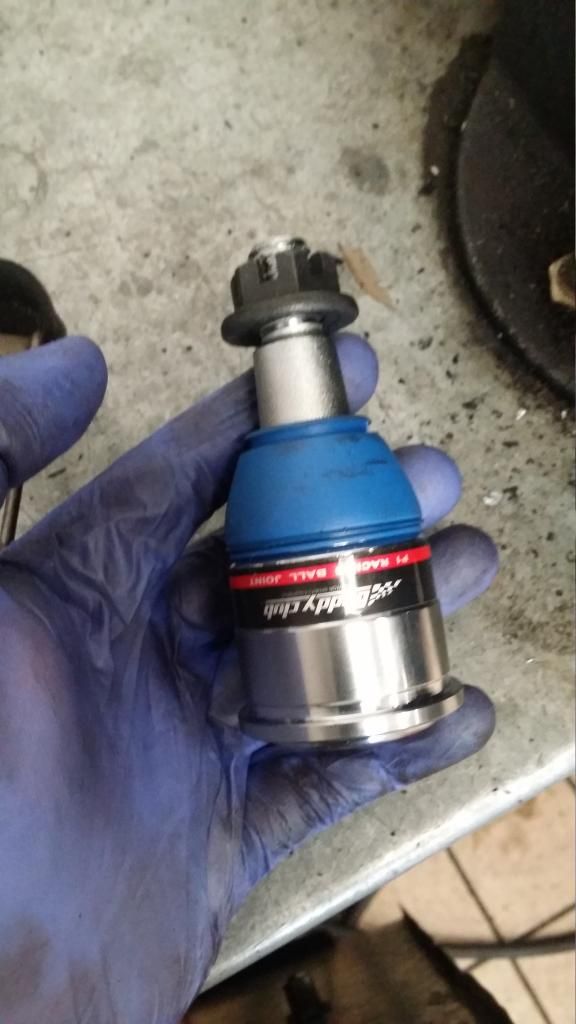 You need to find something to fit over the balljoint. A socket, bit of tubing, scaffold might fit.
It needs to fit over the joint, but sit against the hub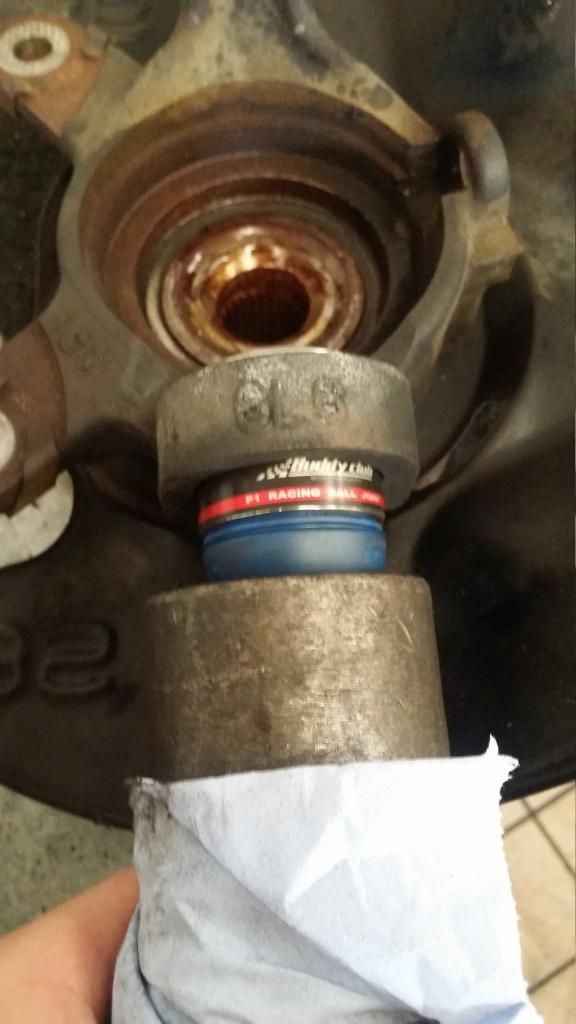 Now get the vice open wide, and place the hub in like this. You will benefit from a second pair of hands, but you can do solo. Obviously you need the bit of metal in here too, over the balljoint, but i only have 2 hands!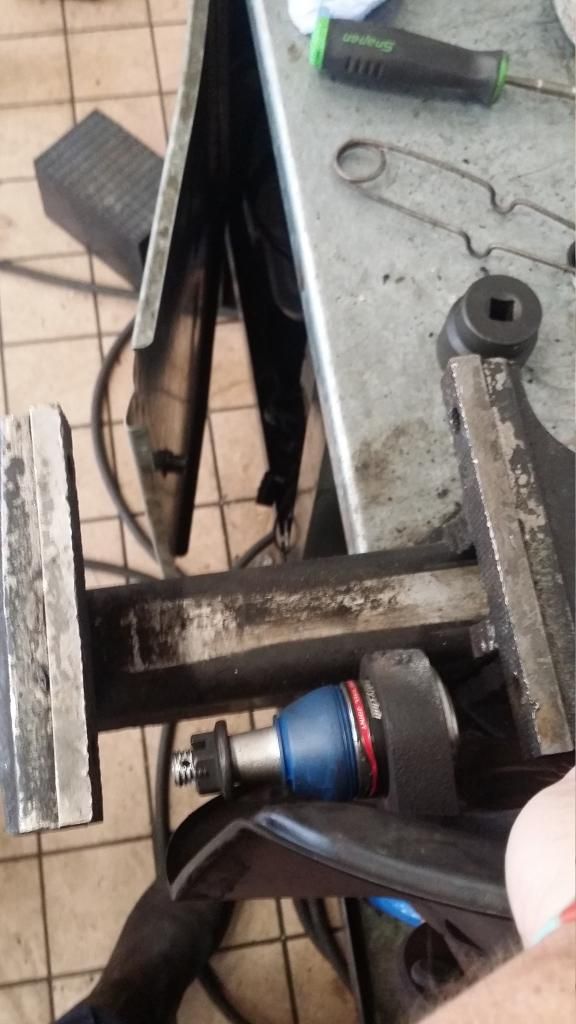 I put a bit of flat plate between the vice and the back of the balljoint. But again, not needed, i just had it to hand. You want to wind the vice in now, the joint will press in quite easily and smoothly. One hand was enough to do the vice up the whole time. It will push until its sat flush, and end up looking like this.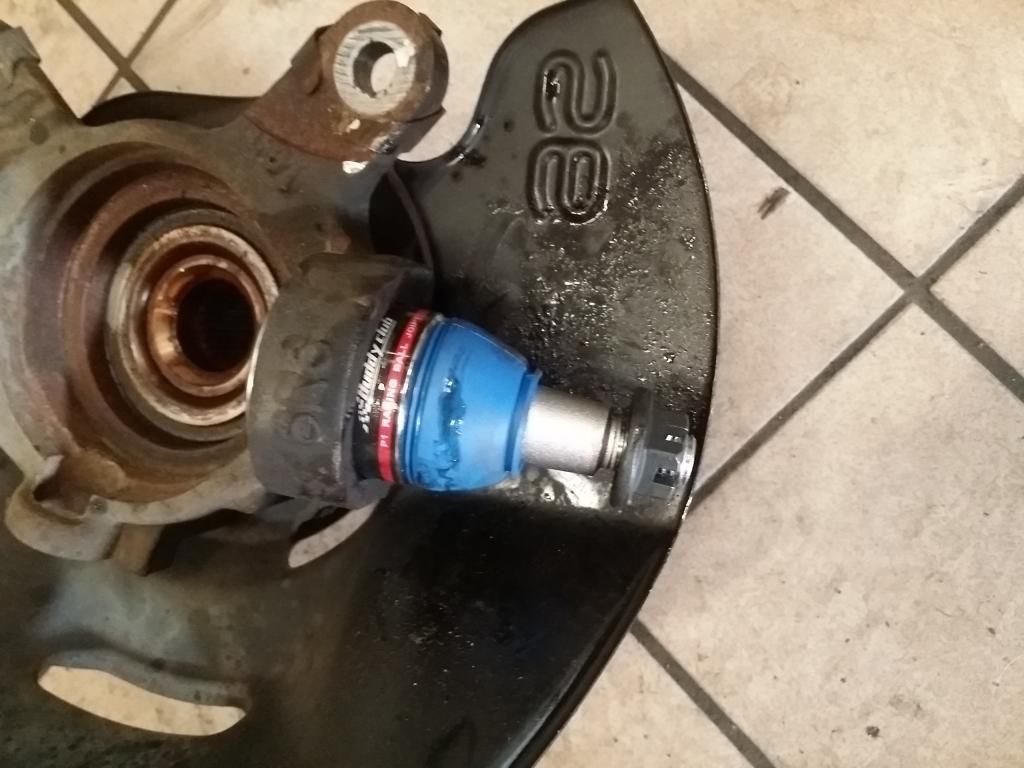 Now just put it all back together again...and do the other side!
Hopefully this helps someone, or at least shows whats involved if you have to take it somewhere to have it done.